Fujian Business University (FBU) is located in Fuzhou City, a famous historical and cultural city. It is a State - owned university which can be traced back to "Fujian Government Business School" founded in 1906 by Chen Baochen, the teacher of the emperor of Qing Dynasty.
The university has three campuses, i.e. Gulou, Lianjiang and Mawei. It covers an area of more than 1,500 acres and has more than 13,000 full-time students and 1000 faculties. There are 10 colleges with 29 majors as listed below.



Colleges

Majors

College of International Economics and Trade




E-commerce

International Business

Cross-Border-E-commerce

International Economics and Trade

Trade Economy

College of Accountancy

Financial Management

Auditing

Accounting

College of Business Administration

Property Management

Marketing

Logistics Management

Human Resources Management

Retail Business Management

College of Media and Exhibition

MICE Management

Exhibition

College of Tourism and Leisure Management

Hospitality Management

College of Finance

Insurance

Financial Engineering

Economic Statistics

IT Studies College

IOT Engineering

Big Data Technology

Foreign Studies College

Business English

Japanese

College of Art and Design

Art Design

Environmental art and design

Graphic Design

Arts and Crafts Design

Overseas Education College

E-commerce(Fujian and Taiwan Project)

Marketing(Fujian and Taiwan Project)
The university enjoys the reputation of "the Cradle of Business" and "the Cradle of Foreign Trade" in the society, and has various educational co-operations with colleges and universities in Canada, Australia, Germany and other "Silk & Road" countries, in addition to Taiwan and HongKong Regions. The Co-op projects are as follows.
| | | | | |
| --- | --- | --- | --- | --- |
| No. | Country/Region | Co-op Universities/Partners | Co-op projects | Achievements |
| 1 | Germany | Fachhochschule Nordhessen(FHN) | the major of International Finance | 320 students enrolled and 170 students have graduated |
| 2 | Australia | Kangan Institute | the major of Accounting | 169 students enrolled and 131 students have graduated |
| 3 | Canada | College of the North Atlantic(CNA) | the major of Accounting | 320 students enrolled and 170 students have graduated |
| 4 | Tai Wan | Yuda University of Science and Technology | the majors of E-commerce and Marketing | 255 students enrolled and 97 students have graduated |
| 5 | Hong Kong | The Open University of HongKong | The major of Business Administration | 300 students enrolled and 200 students have graduated |
| 6 | Malaysia | City University | Student exchange | 5 students have exchanged |
| 7 | Papua New Guinea | East New Britain Provincial Government | International Students | 8 international students enrolled |
| 8 | Malaysia | Universiti Tunku Abdul Rahman(UTAR) | MOU | |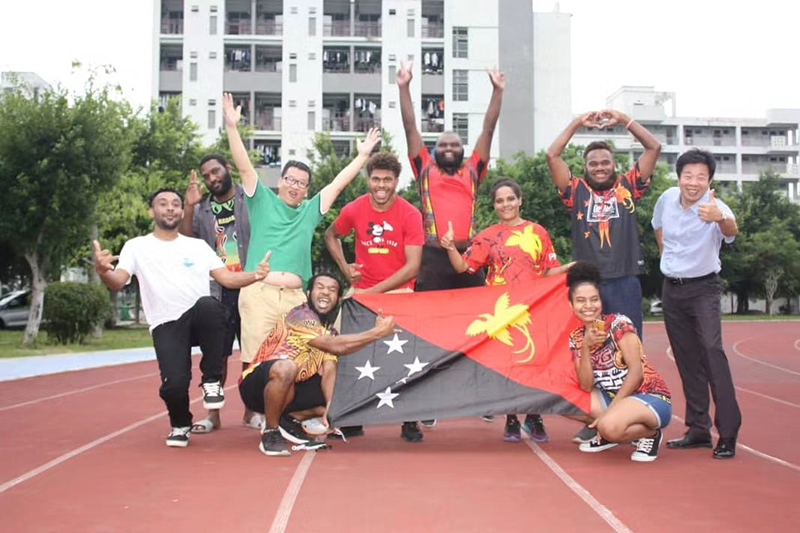 Contact Email: dwhzc@fjbu.edu.cn